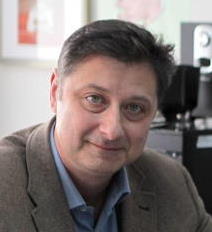 PAPADOPOULOS, Athanasios
Professor
---
Dr. Athanasios Papadopoulos is Professor in the Department of Nutritional Sciences and Dietetics since 2006. His scientific Interests focus on the topic of Bioinorganic Chemistry. More specific, he is working in metall complexes with pesticides, anti-microbial and NSAID's, as ligands. The novel compounds are characterized by elemental analysis, FTIR spectroscopy, UV-vis spectroscopy, EPR spectroscopy. Their antioxidant, anti-inflammatory and anticoagular activity is also evaluated.
He has organized a large numerous of International and national scientific conferences.
Short list of publications
Perontsis, S., Dimitriou, A., Fotiadou, P., Hatzidimitriou, A.G., Papadopoulos, A.N., Psomas, G., Cobalt(II) complexes with the non-steroidal anti-inflammatory drug diclofenac and nitrogen-donor ligands (2019) Journal of Inorganic Biochemistry, 196.
Dimiza, F., Raptopoulou, C.P., Psycharis, V., Papadopoulos, A.N., Psomas, G., Manganese(ii) complexes with the non-steroidal anti-inflammatory drugs naproxen and mefenamic acid: Synthesis, structure, antioxidant capacity, and interaction with albumins and DNA (2018) New Journal of Chemistry, 42 (20), pp. 16666-16681.
Deligiannidou Georgia-Eirini, Kontogiorgis Christos, Hadjipavlou-Litina Dimitra, Lazari Diamanto, Konstantinidis Theodoros and Papadopoulos Athanasios, Antioxidant contribution of Lavender (Lavandula angustifolia), sage (Salvia officinalis), tilia (Tilia tomentosa) and sideritis (Sideritis perfoliata) beverages prepared at home. (2018) Journal of Food Science & Technology, 3 (4), pp 360-377
Kontogiorgis, C., Deligiannidou, G.-E., Hadjipavlou-Litina, D., Lazari, D., Papadopoulos, A., Antioxidant protection: The contribution of proper preparation of fennel (Foeniculum vulgare Mill.) beverage., (2016) Industrial Crops and Products, 79, pp. 57-62.
- Chemistry Degree, Aristotle University, Thessaloniki, GR
- MSc, Chemistry Didactics and New Technologies
- PhD, Bioanorganic Chemistry, Aristotle University, Thessaloniki, GR